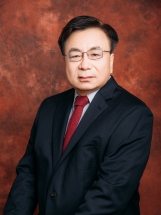 Prof. Deyu Qi, South China University of Technology
齐德昱教授,华南理工大学
齐德昱:理学学士、工学硕士、工学博士,教授,博士生导师。先后任华南理工大学计算机学院教授软件学院教授、计算机科学与技术学科及软件工程学科博士生导师、华南理工大学计算机系统研究所所长、美国德州大学阿灵顿分校与华南理工大学联合物联网创新实验室主任,广东省可信数字身份与密码区块链应用联盟理事长、广州市智慧教育创新联盟副理事长、华南理工大学"兴华人才工程"先进计算体系结构学术团队学术负责人、广东省Linux应用软件标准化技术委员会委员、广州市未来信息技术研究院院长、南国商学院增强智能研究院院长。

主要研究方向包括新一代计算机系统结构,软件开发方法与软件体系结构,CASE与软件开发环境与工具,智能增强、智能控制,计算机系统安全等,涉及的应用方向包括云计算、大数据、物联网、人工智能、信息安全方面、系统软件与应用软件以及高性能计算等。
目前已培养博士后3名、毕业博士生30名、毕业硕士生近200名。
编写出版国家"十一五"规划教材"数据结构与算法",编写研究生教材"计算机形式化方法",在国内外知名刊物发表学术论文200多篇,获得授权发明专利11件。
先后作为主持人承担国家高技术(863)项目、国家自然科学基金项目、国家技术创新基金项目、广东省自然科学基金团队项目、广东省重点科技攻关项目、粤港关键领域重点突破项目等。
先后在所承担的国家863、国家自然科学基金及其他一些基金或科技计划项目中,提出并实现VLSI动态可测性分析方法Fanalysis 、面向对象分析的LOODS抽象模型、产品概念设计智能化支持体系结构HCP、大粒度独立分布应用系统互操作模型XIOM、多数据库中间件DoD、框架化的数据集散环境与工具DataHub、基于形式领域融合的计算模型GridJack(格件)、综合联动线速网络安检体系、大数据模型与管理系统GriDoc、基于抽注服务的C/C模式软件开发方法与框架EIO、统一软件开发平台OneP/USIP、统一应用支撑环境OAA、泛制造平台UPP。
Qi Deyu: B.sc., M.Tech., PhD.Tech, Professor, doctoral supervisor. He has served as professor of South China University of Technology(SCUT), doctoral supervisor of computer science and technology and software engineering of SCUT, director of Research Institute of Computer System at SCUT, director of Joint IoT Innovation Lab of The University of Texas at Arlington and South China University of Technology, chairman of Alliance of Guangdong Credibility Computing and Block Chain, vice chairman of Alliance of Guangzhou Smart Education, academic leader of Advanced Computing Architecture of SCUT, director of Research Institute of Guangzhou Future Information Technology, director of Research Institute of Intelligence Augmentation at South China Business College.
The main research directions include new generation computer system architecture, software development methods and software architecture, CASE and software development environment and tools, intelligence augmentation, intelligent control, computer system security and so on. The application directions include cloud computing, big data, Internet of things, artificial intelligence, information security, system software and high performance computing.
He has written and published many textbooks and monographs, published more than 200 academic papers in well-known journals, and obtained 11 authorized invention patents.
As the host, He have completed many research projects, including the projects of the National High Technology Program (863), the National Natural Science Foundation of China, the National Natural Science Foundation of Guangdong Province, the National Technology Innovation Fund project, the Guangdong key science and technology projects, breakthroughs for key areas of Guangdong and Hong Kong Joint and so on.
He has put forward a series of methods and techniques. It includes VLSI dynamic testability analysis method Fanalysis, object-oriented analysis abstract model LOODS, product conceptual design intelligent support architecture HCP, distributed application system interoperation model XIOM, multi-database middleware DoD, framed data collection and distribution environment and tool DataHub, computing model GridJack based on formal domain fusion, integrated line-speed network security inspection system, big data model and management system GriDoc, C mode software development method and framework EIO based on pumping service, unified software development platform OneP/USIP, unified application support environment OAA, pan-manufacturing platform UPP.